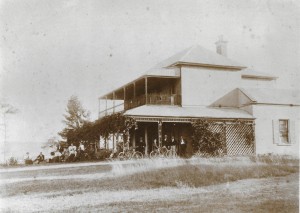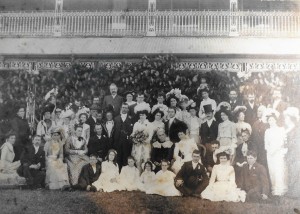 Leconfield House was built in 1872 for Reginald Wyndham, son of George Wyndham, founder of the Wyndham Estate, a vineyard and winery in the Lower Hunter Valley in New South Wales. The home is a white two-storey brick home with a red corrugated iron roof, stone foundations quarried near-by and hand made bricks made and fired on site. The outside walls are solid triple brick with no cavity and are 15 inches thick. The joinery timber used throughout is local Australian red cedar.
Downstairs the original ornate plaster ceilings are still intact and are 12 feet high. Upstairs, ceilings are 10 feet high. The house is "U" shaped and built around a sheltered courtyard. In one corner of the courtyard is a
domed shaped well of some 6000 gallons used to catch rain water from the roof. It is still used today.
The name "Leconfield" came from a Wyndham relative, Lord Leconfield. Today, Leconfield is a small district positioned between Branxton, Dalwood and Greta with Leconfield House being the prominent property in the area.
The historic homestead is situated on a peaceful and private 13 acre parcel of land which was originally part of the Wyndham Estate. It is a home for gracious living and has some of the best views in the Hunter Valley. It overlooks the vineyards and lush farmlands of the area.